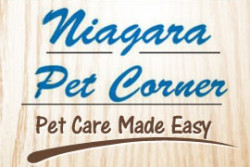 Niagara Pet Corner is a pet shop in Welland, Ontario with a difference. We are independently owned and operated, and are as passionate about pets as you are! We carry pet foods, tropical fish, puppies, kittens and a full line of accessories.
Niagara Pet Corner's goal is to supply our customers with the best possible service, making their pet experience a fun and rewarding one. Barry purchased Niagara Pet Corner in 2001 and has consistently grown the business to continue to meet, and anticipate, his customer's needs.
Barry and his staff are all animal lovers and pet owners, and are as passionate about animals as you are. With pets coming in all shapes and sizes, Niagara Pet Corner has supplies, food and accessories for most domesticated pets- whether it swims, slithers, meows or barks!
Barry Lutzer has owned Niagara Pet Corner since 2006, and has upgraded the store steadily in recent years, adding to the inventory and selection. Extensive renovations have focused most recently on expanding the aquarium and fish section, so there are now over 100 tanks with a huge selection of tropical and marine fish!
Come in to visit our huge selection of beautiful fish from all over the world, and start your own home aquarium today!  Fish are a beautiful, low-maintenance pet that add beauty and an element of tranquility to any room in the house.  We carry everything the novice fish hobbyist needs to get started, and our knowledgeable team is more than happy to help set you up and answer any questions you might have.
For the more experienced fish enthusiast looking to expand or upgrade, we have a huge selection of aquariums and supplies including furniture, decorations, live plants, filtration, pumps, fluorescent lights, reverse osmosis units and power compacts, lighting filters, fiber optics, and tanks ranging from 21/2 gallons to 265.  If we don't have what you're looking for in-store, we may be able to special order for you from one of our many, reputable suppliers.
At Niagara Pet Corner, we not only have an awesome fish & aquarium section, but we also stock a wide range of  reptiles, various birds, kittens and puppies for sale, and all the supplies and pet accessories you'll need to take care of your little family.
We bring in kittens and puppies of various breeds on a regular basis.  Our furry little friends come from reputable, small scale breeders that we have established a trusted relationship with, and that we are proud to present to you.  All of our puppies and kittens receive veterinary care and the preliminary vaccines, and come with a record of health.   We take great pride in our puppies and kittens, so you can be sure that you'll have a wonderful companion for many years.
Our goal is to supply our customers with the best products, the best service, and the best experience to make their pet store visit a fun and rewarding one.  Come in today to Niagara Pet Corner! You can always count on us to go that extra distance, and we stand behind all of our products.