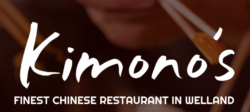 Experience authentic Chinese meals like never before at Kimono's Chinese Food. Our meals are full of flavour and delectable to every taste bud. We pick the finest ingredients and use authentic Chinese recipes to prepare each dish, ensuring every bite is a unique experience for our respected guests. From our generous portions, affordable prices and family-friendly atmosphere, our restaurant is a natural choice for your next dine-in or take-out occasion in Welland.
Try ordering today! We recommend trying one of our popular favourites like the BBQ Pork, Fried Mixed Vegetables with Almonds, or the Sweet-and-Sour Shrimp. Joining us for dinner? You must try the Honey Garlic Pork Spareribs, Fried Chicken Wings with Black Bean Sauce, and Kimono's Fried Rice - it's absolutely delicious! If you are having friends over, order one of our dinners for delivery! Try ordering the dinner for six. This exquisite dinner comes with wonton soup, egg rolls, Cantonese chow mein, sweet-and-sour chicken, Kimono's chicken fried rice, chicken chow mein, breaded shrimp, and jar do wings. Simply amazing!
Order now online for delivery or pickup through SkipTheDishes and enjoy your favourite Chinese food in the comfort of your own home!