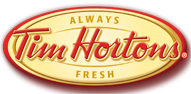 The Tim Hortons chain was founded in 1964 in Hamilton, Ontario.  The chain's focus on top quality, always fresh product, value, great service and community leadership has allowed it to grow into the largest quick service restaurant chain in Canada specializing in always fresh coffee, baked goods and homestyle lunches.
The first Tim Hortons restaurants offered only two products - coffee and donuts.  The selection of donuts to enjoy was highlighted by two original Tim Hortons creations, the Apple Fritter and the Dutchie.  They became the most popular donut choices in the 60's, and remain two of the most popular today.
But as consumer tastes grew, so did the choices at Tim Hortons.  The biggest change in the chain's product focus took place in 1976 with the introduction of the phenomenally successful Timbit (bite-sized donut hole), today available in over 35 different varieties.  The chain's growth into the 1980's brought about a whole series of new product introductions: muffins (1981), cakes (1981), pies (1982), croissants (1983), cookies (1984), and soups & chili (1985).  Sandwiches, which were originally introduced in 1993, were re-introduced as a new and improved line-up of 6 varieties, called "Tim's Own", in 1998. Also, in the 1990's, bagels (1996), flavored cappuccino (1997), Café Mocha (1999) and Iced Cappuccino (1999) were introduced. In 2003, the Turkey Bacon Club sandwich and Maple Pecan Danish were successful menu additions.  In 2005 Tim Hortons introduced, Yogurt & Berries, Cinnamon Roll and Hot Smoothee to the menu.  Many new great products were added to the menu in 2006 such as the Chicken Salad Wrap and the hot Breakfast Sandwich (eggs, sausage or bacon, processed cheese on a toasted homestyle biscuit).
The chain's biggest drawing card remains its legendary Tim Hortons coffee.  The special blend is also available in cans, as are Tim Hortons hot chocolate and English Toffee and French Vanilla cappuccinos, so guests can also enjoy these great tasting products at home.
In addition to our regular stand alone restaurants, Tim Hortons locations can also be found in shopping malls, highway outlets, universities and hospitals, providing prominent visibility for the chain.  Most standard Tim Hortons locations offer 24-hour drive-thru service, catering to consumers on the go. Combo unit locations, which house both a Tim Hortons and Wendy's, offer guests the convenience of both restaurants under one roof.
In 1995, Tim Hortons merged with Wendy's International, Inc., giving new focus and impetus to the expansion of the Tim Hortons concept in the United States. The Canadian operation is primarily franchise owned and operated, and expansion plans call for the same key strategy to be implemented in the US and abroad.
In March 2006, Tim Hortons completed an initial public offering of the company and was fully spun off as a separate company as of September 29, 2006.
In December 2014, Tim Hortons became wholly owned by Restaurant Brands International, a public company whose common shares trade on the Toronto Stock Exchange and the New York Stock Exchange under the symbol QSR.