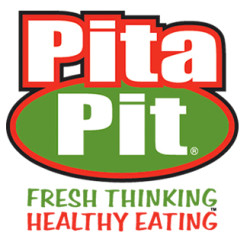 When The Pita Pit began back in 1995, Braveheart was Best Picture, Seinfeld was all the rage, the OJ Simpson trial was headline news, the Worldwide Web was just taking off and the DVD was new—and a major innovation.
So was the idea that drove Nelson Lang and John Sotiriadis to open their first Pita Pit in Kingston, Ontario.
Today's trend toward healthier eating was still a long way off, but Nelson and John were ahead of the curve. They were convinced the time was right to offer a fresh, healthy alternative to traditional high-fat, high-carb, high-calorie fast foods. Their Lebanese-style pita sandwiches packed with fresh veggies, grilled meats and zesty sauces were an instant hit with the college and university crowd, especially since the store stayed open late—well into the wee hours of the morning, making it perfect for students taking a break from studying or coming home after a night of partying.
Within two years, franchise stores had begun opening right across Canada. Two years later, they were opening in the USA where the concept took off immediately with consumers of all ages.
Today, there are more than 500 Pita Pit stores around the world. It's also moving up on the "Future 50" list, Restaurant Business Magazine's ranking of the best and fastest-growing small chains. In 2009, it was ranked #1 in its category on the Franchise 500 list. In 2014 Pita Pit was also recognized as one of Foodservice and Hospitality's Top 100.
Clearly, The Pita Pit's "fresh thinking, healthy eating" motto is an idea whose time has come.